Current Publications
Written by Journal of Cancer Research and Clinical Oncology
Monday, 04 July 2011
RP101 (Brivudine) binds to heat shock protein HSP27 (HSPB1) and enhances survival in animals and pancreatic cancer patients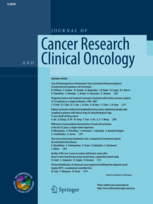 Journal of Cancer Research and Clinical Oncology

ISSN 0171-5216
Volume 137
Number 9

J Cancer Res Clin Oncol (2011)
137:1349-1361
DOI 10.1007/s00432-011-1005-1

Author: Jörg-Christian Heinrich, Anne Tuukkanen, Michael Schroeder, Torsten Fahrig und Rudolf Fahrig
Read more...
Written by Humana Press
Friday, 07 March 2008
| | |
| --- | --- |
| Book Series | Current Clinical Oncology |
| Book | Targeted Cancer Therapy |
| Publisher | Humana Press |
| DOI | 10.1007/978-1-60327-424-1 |
| Copyright | 2008 |
| ISBN | 978-1-60327-423-4 (Print) 978-1-60327-424-1 (Online) |
| DOI | 10.1007/978-1-60327-424-1_13 |
| Pages | 271-287 |
| Subject Collection | Medicine |
| SpringerLink Date | Friday, March 07, 2008 |
Authors: Don L. Gibbons, Robert A. Wolff and Gauri Varadhachary
Abstract:
Only modest progress has been made in improving the overall survival of pancreatic cancer patients during the past 20 years with standard cytotoxic chemotherapy drugs. More work needs to be done to address the key biologic characteristics of pancreatic cancer that make it so aggressive, metastasizing at an early stage, and more refractory to standard treatments than most other solid tumor types. Here, we discuss the emerging role of targeted therapy in pancreatic cancer and the status of currently available and tested agents. We also point out the potential pitfalls in current trial designs and recommend new methods for testing novel compounds in this heterogeneous and difficult-to-treat group of patients.
Written by International Journal Of Oncology
Monday, 31 December 2007
Proteomics finding heat shock protein 27 as a biomarker for resistance of pancreatic cancer cells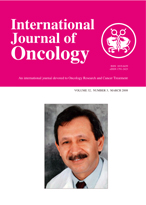 2007 Dec;31(6):1345-50
Proteomics finding heat shock protein 27 as a biomarker for resistance of pancreatic cancer cells to gemcitabine
Authors: Sayaka Mori-Iwamoto, Yasuhiro Kuramitsu, Shomei Ryozawa, Kuniko Mikuria, Masanori Fujimoto, Shin-Ichiro Maehara, Yoshihiro Maehara, Kiwamu Okita, Kazuyuki Nakamura, Isao Sakaida
Abstract:
Pancreatic cancer remains a devastating disease and >96% of patients with pancreatic cancer do not survive for more than 5 years. Gemcitabine (2'-deoxy-2'-difluoro-deoxycytidine: Gemzar) appears to be the only clinically effective drug for pancreatic cancer, but it has little impact on outcome. Proteomic analysis of gemcitabine-sensitive cells (KLM1) and resistant pancreatic cells (KLM1-R) was performed to identify target proteins of the gemcitabine. We found seven proteins, HSP27, peroxiredoxin 2, endoplasmic reticulum protein ERp29 precursor, 6-phosphogluconolactonase, triosphospate isomerase, α enolase, and nucleophosmine that could play a role in determining the sensitivity of pancreatic cancer to gemcitabine. We knocked down HSP27 in KLM1-R and the sensitivity to gemcitabine was restored. In addition, increased HSP27 expression in tumor specimens was related to higher resistibility to gemcitabine in patients of pancreatic cancer. HSP27 may play an important role in the resistibility to gemcitabine, and it could also be a possible biomarker for predicting the response of pancreatic cancer patients to treatment with gemcitabine.
Written by Current Medicinal Chemistry
Wednesday, 14 November 2007
Anti-Cancer Therapeutic Approaches Based on Intracellular and Extracellular Heat Shock Proteins

Authors: Didelot, Celine; Lanneau, David; Brunet, Mathilde; Joly, Anne-Laure; Thonel, Aurelie D.; Chiosis, Gabriela; Garrido, Carmen
INSERM UMR-866, Faculty of Medicine and Pharmacy, 7 Boulevard Jeanne d'Arc, 21049 Dijon, France.
Source: Current Medicinal Chemistry, Volume 14, Number 27, November 2007 , pp. 2839-2847(9)
Publisher: Bentham Science Publishers
Abstract:

Stress or heat shock proteins (Hsps) Hsp90, Hsp70 and Hsp27 are chaperones that assist the proteins in their folding, stability, assembly into multi-protein complexes and transport across cellular membranes. The expression of some of them is highly induced in response to a wide variety of physiological and environmental insults. Hsps have a dual function depending on their intracellular or extracellular location. Intracellular Hsps have a protective function. They allow the cells to survive to lethal conditions. The cytoprotective functions of Hsps can largely explain by their anti-apoptotic properties. Hsp90, Hsp70 and Hsp27 can directly interact with different proteins of the tightly regulated programmed cell death machinery and thereby block the apoptotic process at distinct key points. In cancer cells, where the expression of Hsp27, Hsp70 and/or Hsp90 is frequently abnormally high, they participate in oncogenesis and in resistance to chemotherapy. Therefore, the inhibition of Hsps has become an interesting strategy in cancer therapy. In contrast to intracellular Hsps, extracellular located or membrane-bound Hsps mediate immunological functions. They can elicit an immune response modulated either by the adaptive or innate immune system. In cancer, most immunotherapeutical approaches based on extracellular Hsps exploit their carrier function for immunogenic peptides. This review will discuss this different and often paradoxical approaches in cancer therapy based on the dual role of Hsps, protective/tumorigenic versus immunogenic.
Written by Brazilian Journal of Toxicology
Wednesday, 31 October 2007
Fahrig, R., RP101 improves the efficacy of chemotherapy in pancreas carcinoma cell lines and pancreatic cancer patients. Brazilian Journal of Toxicology, Volume 20 (ISSN 1415-2983), Supplement 2, 2007: 9.
RP101 ((E)-5-(2-Bromovinyl)-2'-Deoxyuridine, BVDU) which supports apoptosis and prevents the acquisition of chemoresistance, was tested in cultured human pancreatic tumor cells. RP101 down-regulated uridine phosphorylase, a marker of poor prognosis, and APEX1, which is involved in DNA repair, and repressed Stat3 and its target VEGF. Furthermore, RP101 activated antitumor immunity as demonstrated by enhanced cytolytic activity of NK-92 natural killer cells. This was concomitant with an enhanced expression of lymphotoxins alpha and beta, natural killer cell transcript 4 (NK4), tumor necrosis factor LIGHT/TNFSF-14, and ICAM-1 in pancreas carcinoma cells. These results encouraged us to investigate the effect of RP101 in pancreas cancer patients. Here, we present data from two RP101 combination therapy schemes. In a first pilot study, 13 patients being in stage III and VI of disease were treated with gemcitabine (GEM)+cisplatin (CIS)+RP101. RP101 co-treatment enhanced remissions, survival and time to progression (TTP).
77% of the patients lived or have lived longer than one year, and 23% live more than two years. Median survival was 447 days, TTP 280 days, and the response rate 33%. A second study with 21 patients in similar stages of disease, treated with RP101+GEM alone, confirmed the results of the pilot study. 83% of the presently evaluable patients live or lived half a year or longer and 33% one year or longer. Considering both studies, the tumor control was 94%. The data implicated that acquisition of chemoresistance was prevented and the antitumor efficacy of standard chemotherapy was improved. To our knowledge RP101 co-treatment is more efficient than any other regimen published.
<< Start
< Prev
1
2
Next >
End >>
Results 1 - 9 of 17