Current News
Written by RESprotect GmbH
Tuesday, 28 June 2011
Return Of North-American Rights And Approval Of Clinical Development Plan For RP101 In Advanced Pancreatic Cancer Patients By European Authorities
Dresden/Germany, June 28, 2011 – RESprotect announces today that it has received back the North-America rights for RP101, RESprotect's anticancer drug with proven efficacy to combat chemoresistance and improve chemosensitivity, from its former North American partner.
In addition, RESprotect has gained approval from German Authorities for the adapted development plan of RP101. According to this plan, development of RP101 will be reinitiated still in 2011 to proceed into a pivotal phase IIb study with late-stage pancreatic cancer patients soon. It was further reiterated by the German Authorities that this pivotal study could be sufficient to file for marketing authorization in the EU.
RESprotect is currently aiming for strategic partnerships to develop and market RP101 in pancreas carcinoma and follow-up indications on a worldwide basis.
Read more...
Written by RESprotect GmbH
Tuesday, 01 March 2011
On March, 1st 2011, RESprotect was awarded by the German Federal Ministry of Economics and Technology at the Technology Competition "Trusted Cloud".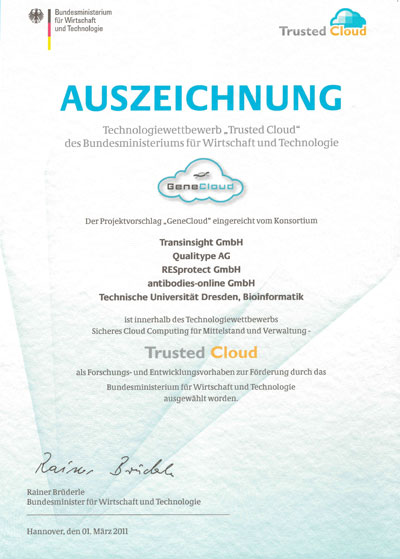 Written by RESprotect GmbH
Tuesday, 16 November 2010
The RESprotect GmbH has been nominated as a finalist of the STEP Award 2010.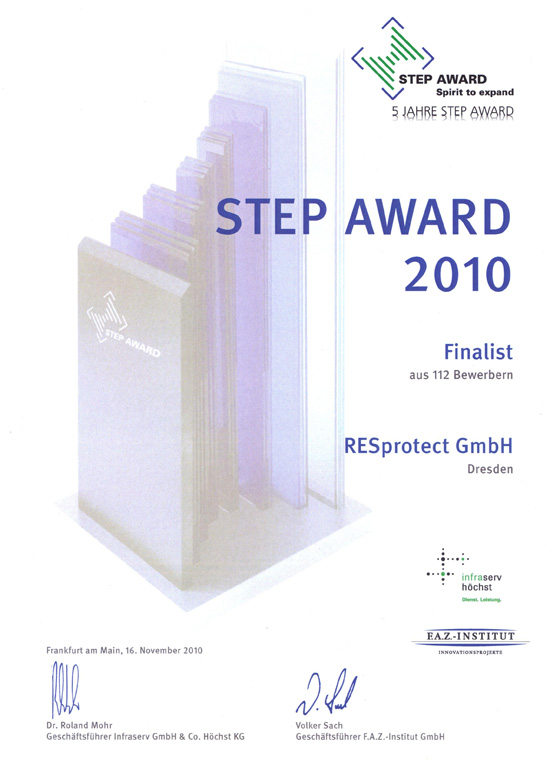 Written by RESprotect GmbH
Friday, 29 January 2010
RP101 Granted European Orphan Drug Designation for Pancreatic Cancer
In January 2010, RP101 was granted the Orphan Drug designation for the adjunct treatment of pancreatic cancer by the European Medicines Agency (EMA). This designation will allow RESprotect a ten-year period of market exclusivity once RP101 is approved. The Orphan Drug designation is intended to provide incentives to drug and biologics suppliers to develop and supply drugs for the treatment of rare diseases, currently defined as diseases that affect no more than 5 in 10,000 people in the EU. U.S. orphan drug designation for RP101 was already granted by the U.S. Food and Drug Administration (FDA) in 2009.
Read more...
Written by RESprotect GmbH
Tuesday, 06 October 2009
In October 2009, SME status was assigned to RESprotect by the European Medicines Agency (EMA). RESprotect has declared itself to be a micro-sized, autonomous enterprise within the meaning of Recommendation 2003/361/EC and is established in the Community. On the basis of this declaration, RESprotect is eligible to benefit from the provisions for administrative and financial assistance of the EMA.
Read more...
<< Start
< Prev
1
2
3
4
5
6
7
8
9
Next >
End >>
Results 1 - 7 of 59